It had been ten years of pain and blame. Ten years of self doubt and depression. Ten years of being afraid, of being alone, of not being able to look at the opposite sex.
Today, it might all change.
Ellie sat in the passenger seat, her knuckles white where she clutched her knees. Deborah said something, but Ellie was in a haze, her body moved mechanically, opening the car door and climbing out.
Fifty yards from the car, they stopped.
Her therapist at her side, Ellie had come back to the river and stood on the exact spot she was attacked ten years ago.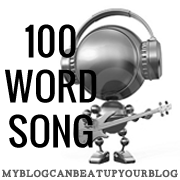 I am honored to have been chosen to select this week's song by Lance and Leeroy. I chose "Pain Lies on the Riverside," by Live from their Mental Jewelry album.