It was February 2006 when my manager at the garage found me in his office, huddled under his desk. I don't remember how I got there, but I do remember feeling – knowing – that if I touched another car, I was going to have screwed something up so bad that someone was going to die.
The funny thing about it is that nothing ever happened at the garage to shake my confidence. Actually, I was very good at that job. Fast and accurate. No problems at all.
But something in me broke that day and I never fixed it.
That day when I broke, my wife held me as I cried on her shoulder. She said to me, "Shh, I love you no matter what. This too shall pass."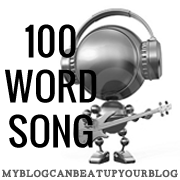 I'm linking up with Lance and Leeroy once again for the 100 Word Song. This week, Mel from According to Mags chose Ok Go's song, This Too Shall Pass. I chose to talk about a very dark day of mine. The day I broke.