He came home late from work again. The light was on in the kitchen, but she was no where to be seen. He dropped his coat and briefcase in the den, anxious for some sleep. When he reached the stairs, there were two sets of clothes scattered, leading up, hers and a man's.
He paused, and could hear soft murmuring coming from up there. Sighing, he turned around and trudged to the living room.
Flopping onto the couch, he turned on the television.
Someday, he was going to say something, but tonight he was just too tired.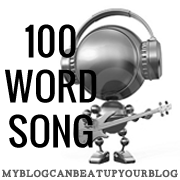 I'm rockin' out with Lance and Leeroy again this week with my take on the 100 Word Song. This week, k~ from Bloggit Write chose Tracy Chapman's "Telling Stories." Rather than play off the song title as I usually do, this song spoke to me strongly of denial so I rolled with that.