Bonus post today! I'm giving the 100 Word Song a shot today. It's the brainchild of Lance at My Blog Can Beat Up Your Blog. I've always liked Social Distortion and their song "Sick Girl" is to be the inspiration for a 100 word story. I was immediately reminded of Karyn Crisis when I heard this song and used her image to describe the girl. Here it is.
I could barely see her in the crowd; just the top of her bleached dreads. She was fighting her way towards the stage, two steps back at times. She was headed for the pit.
The music started as I caught her on the edge of the mosh. Dreads whipped my arms as she turned, saw me.
She had fresh marks on her arms and that large smile I loved.
Skin and bones, protruding veins, she gazed at the stage brown eyes glowing with fervor.
"That is gonna be me someday," she said, as her eyes closed when she folded.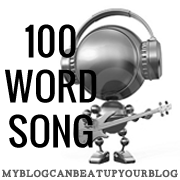 Karyn Crisis photo courtesy of ReturnToThePit.com